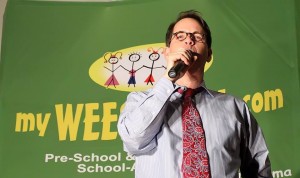 Bio: Vernon H. Mason, Jr. M.Ed.
Author, Humorist, Inspiring Keynote Speaker and Workshop Trainer Extraordinaire
Vernon Mason has been an early childhood administrator for over 24 years with a master's degree in Early Childhood Administration from National Louis University. With a $5,000 credit card in 1991 he and his mother opened a small child care center with a capacity of 30 that grew to 125. In 1999 it was destroyed by a natural disaster. After rebuilding and starting over in just 2 years Vernon grew WEE SCHOOL Child Development Center to 248 children. When he turned 40 he purchased 3 troubled childcare centers in just 12 months. What a midlife crisis! He still wonders why he didn't have an affair or buy a sports car like everybody else. He is the owner of four centers with 85 staff caring for 500 children.
As a natural next step several years ago Vernon began consulting, training, secret-shopping and giving keynote addresses. He has become known for his inspiring story telling, candor and humor in his presentations at local, state and national conferences. Vernon's very popular keynotes and trainings come from real life experiences. He has been hands-on in childcare programs for decades. While being a director he was also a cook, filled in classrooms, took care of maintenance (an expert at unclogging toilets) and multisite management.
His keynotes have been described as "exactly what I needed" and "fall down funny." His stories range from doing CPR on a hamster to firing an employee in the middle of Wal-Mart because she felt like shopping but not working. The stories are unbelievable, real and remind you that you're not crazy it's everybody else! Some of his most requested keynotes and trainings are Don't Waste a Crisis, where there's a will there's a way, a story of perseverance in tough times; Avoiding Burnout by Finding and Keeping your Happiness; Tackling Turnover, praising and rewarding staff for little or no cost; Zero to Hero, improving an employee's performance or setting them free and Early Childhood/Preschool Classroom Management.
In 2015 Vernon launched Directors Leadership Solutions out of his desire to make directors path to success easier. The website is a hub for Vernon to share information he has learned along the way. You will find a variety of resources like parent communication dealing with everything from biting, staff turnover, and tuition rate increases. Tips on to how to handle parent complaints, getting employees to do what you ask and developing a healthy work environment. Directors Leadership Solutions is also where businesses and organizations large and small find information on scheduling Vernon for speaking engagements, secret shopping, and to talk administrators through difficult times.
Vernon is available to bring inspiring stories, humor and content to conferences, corporate functions and professional development events.
myweeschool.com
directorsleadershipsolutions.com
facebook.com/vernon.mason